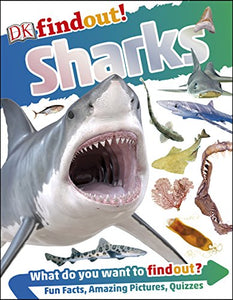 Code No:  FAC004

Publisher : Dk Books

Book Type : Non Fiction

Size : 210 x 280 mm
Description :
DKfindout! Sharks teaches kids everything they would want to know about the world of sharks. With beautiful photography, lively illustrations, and key curriculum information, the DKfindout! series will satisfy any child who is eager to learn and acquire facts - and keep them coming back for more!
For any kid that can't get enough of shark facts, DKfindout! Sharks is packed with up-to-date information, fun quizzes and incredible images of all their favourite sharks including bullhead, carpet and angel sharks. Discover sharks from prehistoric times to matching sharks eggs to their parents.
DKfindout! Sharks will surprise and delight young readers.
RRP: £7.99 (€9.60)

Our Price: €4.99