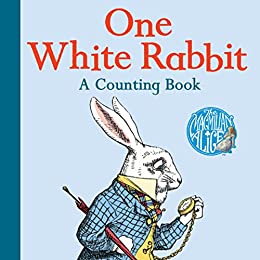 Code No: BB010
Author :
Publisher : Macmillam
Book Type : Board Books

Size :  180 x 180 mm
Description :
One White Rabbit: A Counting Book is a delightful introduction to numbers and counting uses characters and object from Lewis Carroll's iconic Alice's Adventures in Wonderland and Through the Looking-Glass. From 'One White Rabbit for Alice to follow' to 'Five grins from the Cheshire Cat', and 'Nine tarts made by the Queen', this is a really charming book.
The traditional illustrations are by Sir John Tenniel, supplemented by additional pictures in Tenniel's style and beautiful Victorian-style decorative motifs. This is a really special book for young children and together with A is for Alice: An Alphabet Book, forms a classy introduction to the classic Macmillan Alice.
RRP: £5.99 (€7.20)
Our Price: €4.99