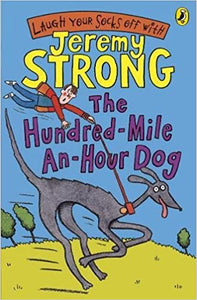 Code No. : PB090
Author : Jeremy Strong
Publisher : Puffin
Book Type : Paperback Fiction
Size : 129mm x 198mm
Description : 
From The Hundred-Mile-an-Hour Dog to karate princesses and hot cross bottoms, there's a Jeremy Strong story to suit every child's sense of humour. Jeremy's readers range from 7 to teen, perfect for fans of Roald Dahl and Morris Gleitzman.
Streaker is a mixed-up kind of dog...with quite a bit of Ferrari and a large chunk of whirlwind.
Streaker is no ordinary dog. She's a rocket on four legs with a woof attached, and Trevor has got until the end of the holidays to train her. If he fails, he'll lose his bet with horrible Charlie Smugg, and something very, very yucky involving frogspawn will happen...
Age : 7 to 10 Years Old

RRP : £5.99 (€6.89)
Our Price : €3.99