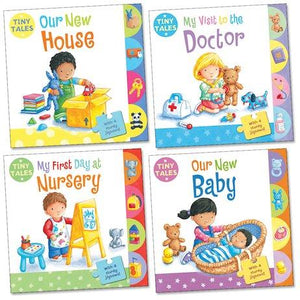 Code No: BB013
Publisher : Scholastic
Book Type : Board Books

Size :  180 x 180 mm
Description :
We adore these sweet stories. They're almost too cute, with their tuggable tags, mini jigsaws and gorgeous pictures. Even better, they're clever as well as cuddly: they help to prepare you for new life events. Going to the doctor. Starting nursery. Moving house. Having a new baby brother or sister. Read these reassuring books, and if those things happen, you'll have nothing to worry about.
Charming first board books introducing new situations
Each book has novelty tabs and a mini four-piece jigsaw
Great way to reassure children about common life events
Lovely artwork full of cute details to spot and discuss
Not suitable for children under 3 years of age. Small parts.
RRP: £19.96 (€23.95)
Our Price: €11.99