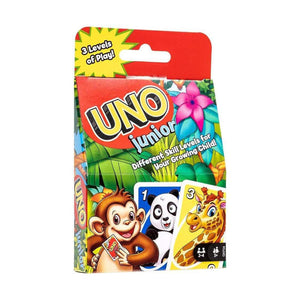 The Mattel Games Uno Junior is a simplified version of the classic card game that we all know and love featuring animals and numbers 0 to 8!
On the first level of difficulty you only need to find matching cards, on the second stage the action cards are included and on the third stage also penalty cards are included.
For each of the number values there is an associated animal, so even children who cannot read numbers can play with them easily.
UNO Junior can be played by 2 to 4 people. Even if it was specially designed for younger UNO fans, the fun drawn animals provide fun for young and old.
Age 3 +